About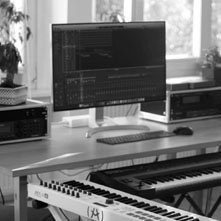 Beside my other musical projects in Progressive, Dubtechno, Techno, House and Tech-House, i always felt a strong passion and addiction for deeper, slower and groovy styles like Downbeat, Lounge, Chillout and Easy Listening all over the years. So it seemed only natural to me to establish a dedicated project for that kind of music back in 2006.

"Smooth Genestar" is seriously dedicated to all kind of groovy downtempo music. My roots and influences in Downtempo, Chillout and Lounge are reaching back to the middle of the 90s, speaking about those legendary CD-series like Space Night and Cafe del Mar, labels like Elektrolux and inspiring artists like Saafi Brothers, Aural Float, Fresh Moods, Nightmares on Wax, Pascal FEOS, Ralf Hildenbeutel and Amphotic, just to name a few. Within the last bygone years, my passion for Nu Skool Jazz also has grown intensive.

On my productions, i always try to keep the balance between the origin vibes of the mid 90s and contemporary sounds. To melt both worlds, its exciting to me to work digital and analog. Since 15 years, i am busy in sound design, and besides a huge library of sounds, samples and patches for Logic Pro X and NI Kontakt, i also still prefer the unique sound of hardware samplers like the Akai S-2000 and the EMU ESI-4000, the warmth of the hardware synthesizers, the usability and sound of my analog mixing console and the quality of outboard effects like reverbs and compressors.

That deep in love with music, it does not really matter what kind of equipment you use as long as you perform with the heart. And of course, if it sounds right, it is right. Writing a track to me means to capture the moment and the inner emotions. Note by Note. Track by Track.

Since 2009, i also operate the free audio netlabel CYAN as co-founder beside Jaja. All releases by Smooth Genestar are hosted there for free under the creative commons license BY-NC-ND 4.0. I also like to cooperate with other musicians, which often changes the personal point of view. In the bygone years, i worked together with fantastic musicians like D-Echo Project from Portugal and Fortadelis from Croatia.

Discover more by following the links provided below:
CYAN
.
Soundcloud
.
Bandcamp
.
Tumblr