Latest release
Smooth - A life in minor
"A life in minor" - no matter, if you feel minor or major - is the latest collection of 27 brand new tracks i worked on the last 14 months with lots of love and passion. Dubtechno in many and versatile forms and variations, but also inspired and influenced by other musical genres.
Expect deep, atmospheric and melancholic Dubtechno created with intense build-ups and long fading outros for a calming and relaxing listening experience. All tracks have been handcrafted with lots of details and put together without interruptions between the tracks, so the album can enjoyed in one, single flow.
The intention of this release was to give melancholy and the feeling of minor a musical face. There is the background noise of life besides emotions fading like delays and reverbs within the music.
Download this album on CYAN
Download this album on Bandcamp
New Dubtechno sample library released on Zero-G
Echo Factory - Dubtechno Mechanisms Vol. 1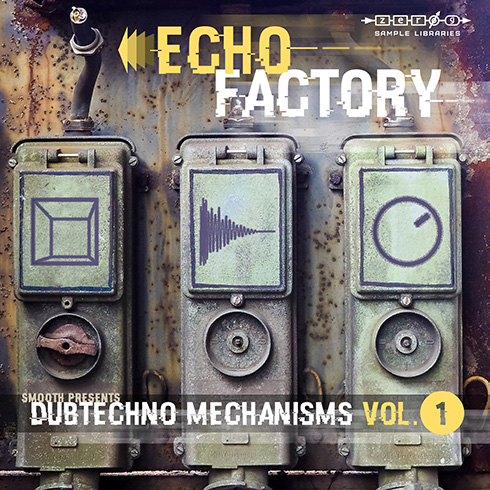 "Zero-G Echo Factory - Dubtechno Mechanisms 1" has been created by german Dubtechno producer "Smooth". This full packed sample library is massively loaded with a total of 1,238 sounds and loops, along with 53 Kontakt6 instruments and a unique Kontakt user interface. This unique sample library will give any Dubtechno producer a massive source of inspiration with a wide range of beautiful, dark, mellow, cold, warm and expressive samples and instruments. Explore over 6.5GB fresh and handcrafted, high quality sounds and instruments with a strong focus on Dubtechno but also suitable for many other styles of electronic music genres. This highly versatile collection of unique Dubtechno sounds provides loops at 120 BPM and 127 BPM, additionally the chords section includes loops dry as well as complex processed, so you can choose the best options for your project. The 53 Kontakt 6 instruments with custom GUI allow an intuitive interaction with the included sounds. All of the samples are 100% original and royalty-free for your musical use!
See product on Zero-G website
Collected works
Smooth - 2009/2019
A collection of at least 24 tracks, all of them produced in the years between 2009 and 2019. In summary, this release is somekind of a musical diary which reflects the numerous influences, inspirations, ideas and sketches of that bygone years. And so its not suprising that many musical atmospheres are coming alive on this album - from ambient like soundscapes over deep, House influenced tracks to hard and minimal Detroit Techno inspired music.
And the good news: This release is completely free for you. If you like to, there is also an option to contribute what you want on Bandcamp.
Download this album on CYAN
Download this album on Bandcamp
Featured release
Smooth - Contemporary Past
Massively influenced and inspired by labels like "EchoSpace Detroit", "Deep Chord" and "Basic Channel", and by artists and acts like "CV313", "Model 500", "Maurizio" and "Yagya", in 2017 i felt a very strong passion to dive way deeper into the magic and the roots of Dubtechno.
My musical research led me to intensive and long build-ups, to minimal and calming sounds, to very lively atmospheres and textures, to weird acting effects, to time-shifting sequences and to a very special mood on the tracks. This album is definately ment as a hommage of a bygone, musical epoche.
Download this album on CYAN
Download this album on Bandcamp